Real estate listings that utilize video marketing are much more likely to receive inquiries than those that don't use video.  Real estate is a competitive industry, it is essential that you market your business effectively and find the best ways to stand out from your competitors.  Whether you are new to video marketing or not, there are plenty of tools to help you create professional-level real estate marketing videos.
"Prosumer" Camera Suggestions
Cameras can take video but camcorders are great too.  This camcorder is easy to use and can shoot high-quality videos.  It also has exceptional zoom capabilities, the ability to shoot high-quality 4K footage, and built-in stabilization.
With 4K capabilities, this camcorder provides incredible detail and color.  It has an impressive optical zoom lens along with great image stabilization. This will give you the steadiness and focus you need for your real estate marketing videos. You can expect stunning video quality on the go from this camcorder.
This camera is considered one of the best for making real estate videos.  It is priced competitively and offers 4K Ultra HD for making professional videos.
Video Editing Software
This professional video editing software program provides powerful color correction along with adjustment capabilities for highlight, hues, saturation, and white balance. This software can also support multiple cameras which helps in capturing video from various angles.
With VideoPad you will be able to create professional-quality videos in minutes.  With this software, you can create videos for YouTube, DVD, HD, 360, and more.  You will have access to over 50 visual and transition effects which will add that professional touch to your real estate marketing videos.
This video app is available for IPad is a great affordable option at $12.99.  This software has plenty of advanced features and tools to justify the monthly cost. It offers plenty of template options, transition effects, as well as other advanced options like animated titles and graphics.
Video editing/post-production services
Fiverr is a marketplace for freelance services. Here you can find video editing services at different price points.  Freelancer Senthuran is a top-rated seller who has completed over 20k projects.   Most projects are completed within 24 hours, so if you are in a pinch, this is your guy.
Another marketplace for freelancers.  Plenty of professionals offering their real estate video editing services.  Freelancers like Junray A. Freelancer has over 234 reviews and a 4.9-star rating.  Many of the reviewers tout him as being very efficient and excellent at his job.
If you want to go the DIY route, Magisto is the service for you.  Their easy-to-use video editing features will have you turning out professional-looking videos.
Affordable Lighting Options
This all-in-one system comes with everything you need to take amazing photos. From umbrellas to lights and a carry bag, it will be easy to take the equipment on the go.
If you are on a budget, this is a great option.  It comes with all the lighting equipment you need to adjust the lighting in any indoor environment.  Another great feature is the carry bag which makes transportation a breeze.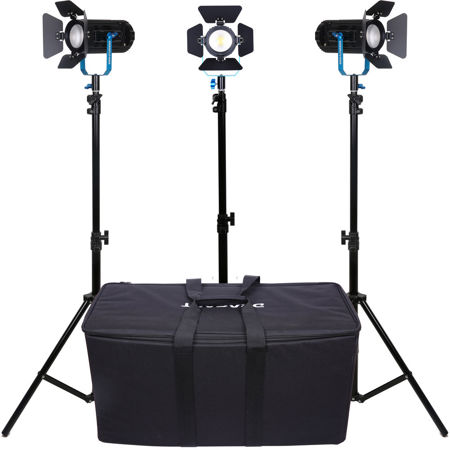 This lighting option is great because it is lightweight and easy to carry on the go. It features light metal and plastic construction which makes it easy to mount it in difficult places.
Low-Budget Microphone Options
This is a great, affordable option for both cameras and smartphones.  The microphone works really well, so you don't need to be close to the camera.  This microphone is especially useful since you can use the same microphone for both a camera and a smartphone.
This lapel mic records excellent audio. It is both lightweight and durable and is perfect for creating professional recordings and videos.
This is a professional-grade wearable microphone that can be used in all types of scenarios.  It can be used on both iPhones and Android and is very user-friendly.  It has professional-grade editing functions and you can upload the recordings to SoundCloud and Dropbox directly from the app.
Udemy Courses
This course offers a complete step-by-step guide to producing high-quality real estate videos.  You will learn about all the proper gear you need along with tips for the business side of real estate like how to get more clients.
The Cinevo System has been helping sell homes for top dollar for the past 12 years.  This video shooting course will help you create professional real estate videos for any type of property or size. You will also learn how to use a drone to film a property.
This masterclass has taught over 900 entrepreneurs and realtors how to produce their own drone video production.  This course will take you step by step through how to set your real estate brand apart from the competition.
For more marketing tips, check out these blogs: Seven Real Estate Marketing Companies That Can Help Supercharge Your Listings,  A Guide to Facebook Marketing for Real Estate Agents,  and 7 Real Estate Marketing Tools You Should Be Using.